Lessons from the Tiny House Movement: 10 Ways to Maximize Space
Tiny houses are taking the world by storm. From homey and rustic to contemporary and sleek, these diminutive dwellings are as diverse as the people who inhabit them. Driven by a desire for financial freedom, more time, and a lighter environmental footprint, those who embrace tiny living come from all walks of life.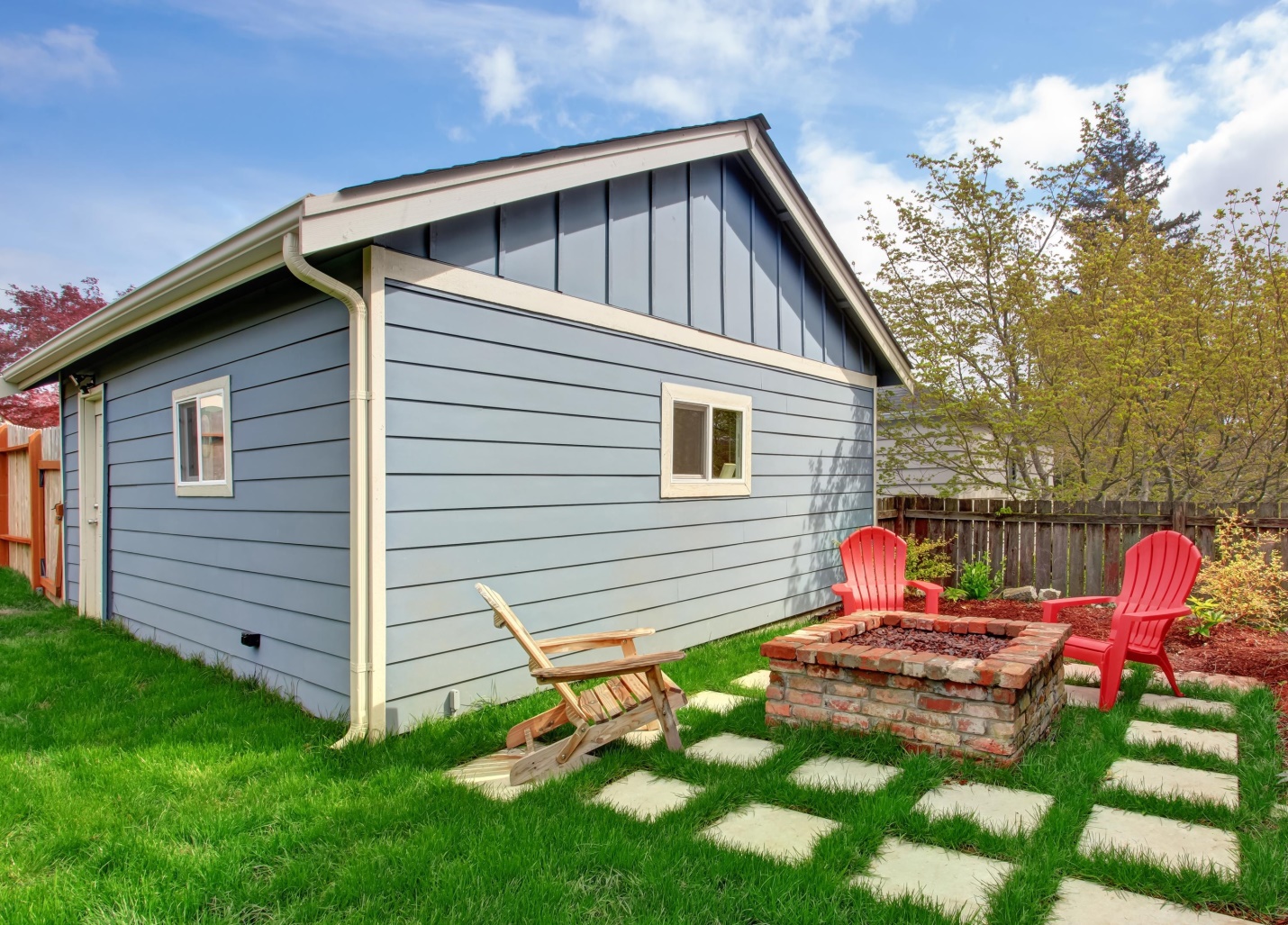 Tiny houses are inarguably less expensive than the typical 2,600 square-foot American home. They generally involve less debt and risk, they're easy to maintain, and they demand pared-down living, all of which are very appealing to a growing segment of the population. At its core, tiny living is a back-to-basics movement.
One advantage of going tiny is that it affords homeowners the luxury of investing in the finer details, from installing an interior sliding barn door with complementary hardware to choosing a handful of decorative statement pieces that you really love.
If you're not ready to take the plunge into tiny home ownership, but you love the idea of pared-down living, here are the top 10 ideas inspired by tiny house designers—masters of minimalism.
1: Sliding Doors
Doors that swing open can be cumbersome and awkward, especially in small rooms where space is limited. Tiny house owners know the considerable advantage sliding doors bring in terms of maximizing space; and, while most doors are drab and unexciting, interior sliding barn doors (which have gained in popularity in recent years) add a decorative element that often becomes the focal point of the room. Here's how they work: Sliding doors hang from a decorative track installed above the door frame; the door is then mounted to the track with matching sliding door hardware, and the door slides back and forth on the track.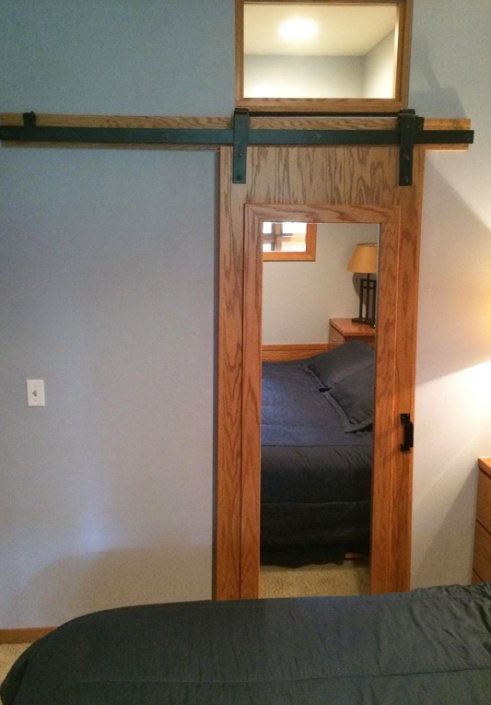 9: Chair-Table-Bookset-in-One
Innovative designers are coming up with some pretty creative ideas with furniture pieces like this table, chair, and bookshelf set that fit together like pieces of a puzzle. Ideal for a family room, kid's playroom or bedroom, the clever design allows you to slide the table and chairs out when needed—for a board game or to create extra dining space when company is over—and then free up floor space again by simply sliding the table and chairs back into their allotted spaces within the bookshelf. Ingenious.
8: Bunk Beds
A space saver that's been around for ages, the bunk bed has one simple principle: Make use of vertical space. Bunk beds are great if you have limited space and a clutch of curtain climbers (kids, that is) who share bedrooms. Adults living in small spaces like a studio apartment or single bedroom can also take advantage of the vertical space principle with furniture pieces like this elegant loft bed with desk and stairway.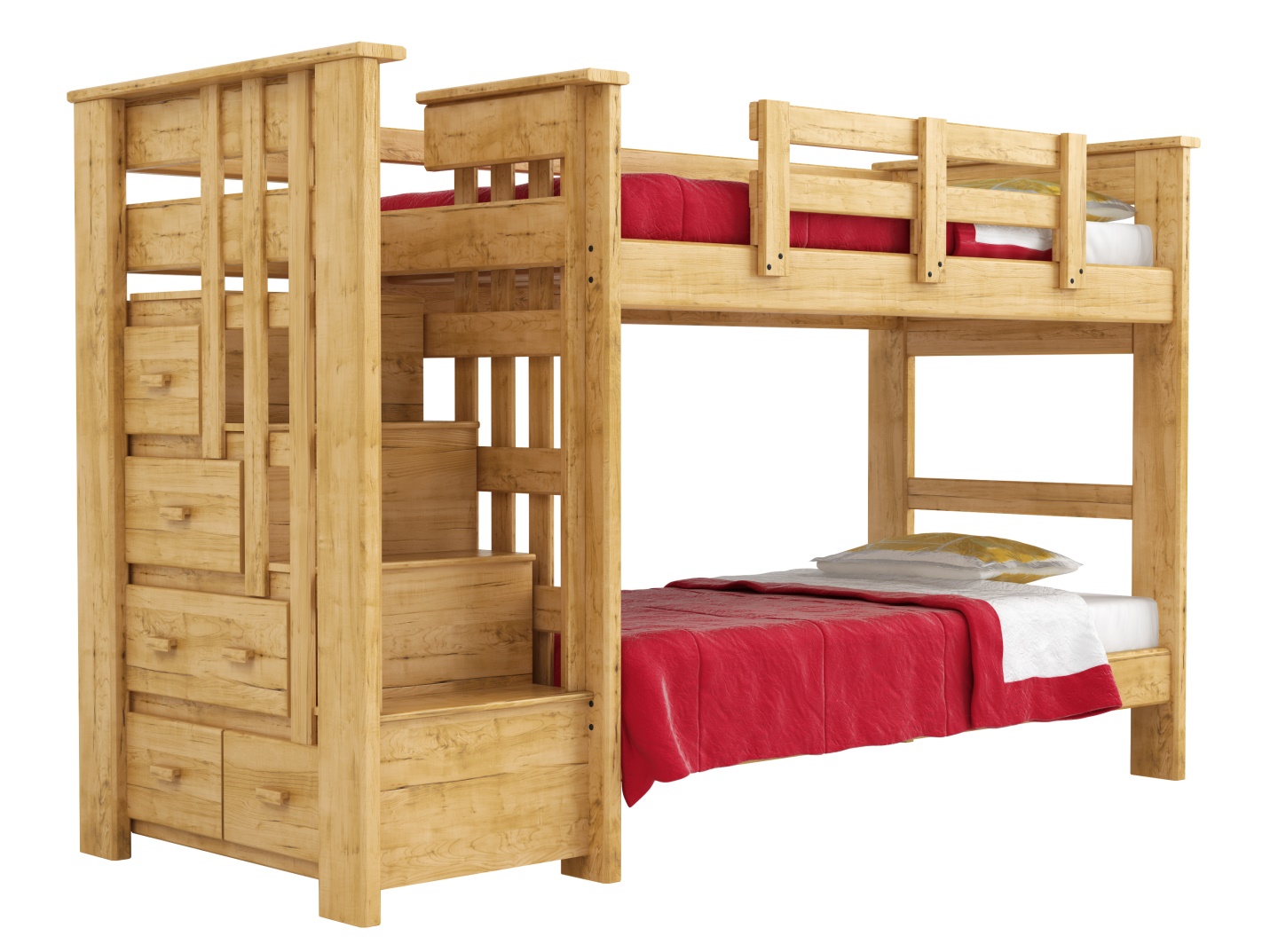 7: Wall-Mounted Desks
A home desk and chair may not get all that much use, yet they often take up a significant amount of space. A wall-mounted desk that folds up against the wall when not in use is an ideal way to conserve space, and painting or decorating the underside of the table transforms it into wall art when it's folded up. Desks are not the only items that can be wall mounted—all of the following can be, too:
Ironing board
Shelving
Bookcases/magazine racks
Lamps/lighting fixtures
Shoe racks
Storage units
Cat perches
6: Furniture with Built-In Storage Space
We've all seen coffee tables that double as trunks or breakfast nooks with storage space under the seating. Some designers are taking this concept to the extreme, like designer Judson Beaumont, whose hollow chair can store everything from books to kids' toys to firewood. Creative designers are thinking outside the box to help consumers maximize space.
5: Nested Tables
Not a new idea, but nonetheless a good one, nested tables are excellent space savers, and they also add visual appeal. Available in virtually every style and color, nesting tables can serve as coffee tables, end tables, even TV dinner tables and impromptu writing tables, as needed. They are easily tucked away when not in use. Those looking for one-of-a-kind pieces can even find nesting table sets made with reclaimed wood and other materials.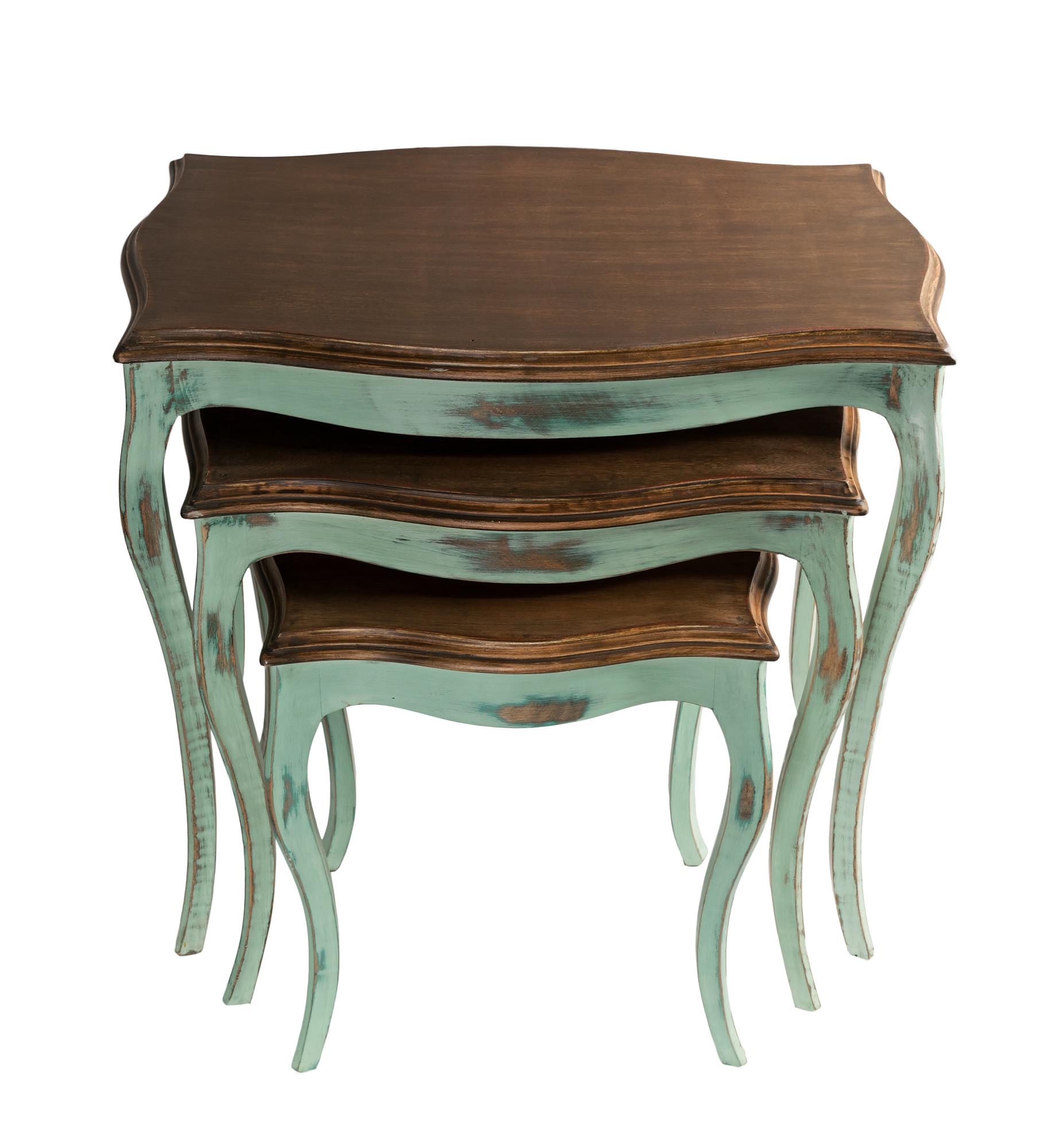 4: Innovative Lighting
From the shape-shifting Lumio that morphs from a hardcover "book" into a 360-degree lamp, to hanging pendant lamps, to wall-mounted track lighting systems that simultaneously decorate and illuminate, there is no shortage of space-saving lighting fixtures. Forget bulky table lamps and torchiers that take up floor space. To maximize space, compact lighting features are a must.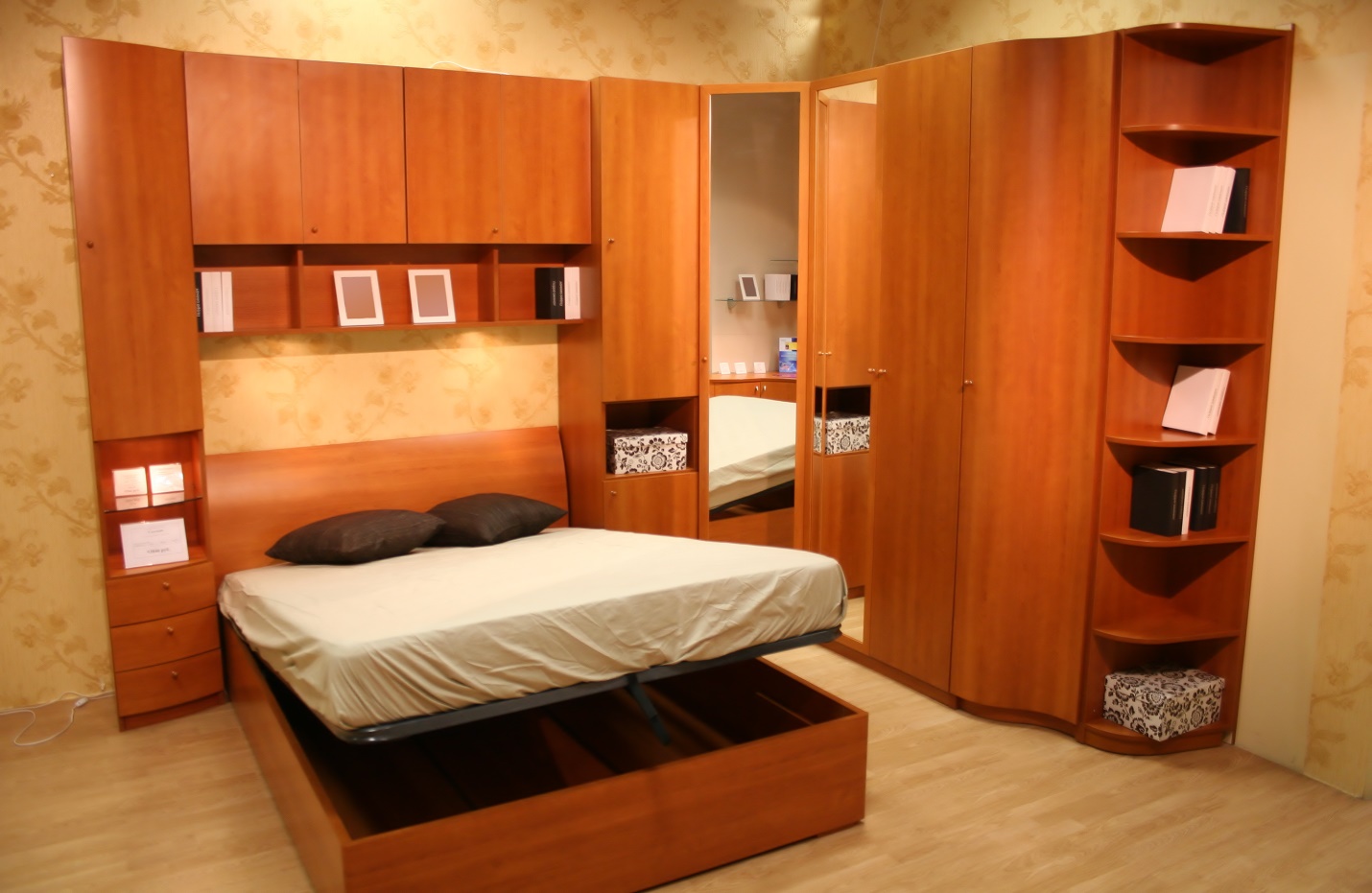 3: The Murphy Bed
A bed takes up a lot of space, whether it's a double size mattress or a California king. Tiny houses often feature fold-up Murphy beds (also called wall beds or pull-down beds). Hinged at one end, these beds fold up vertically, usually inside a cabinet. Named after the man who first sought to patent the design—William Lawrence Murphy—pull-down beds have been helping people save space for more than a century.
2: Ladder Bookshelves
Capitalizing on the vertical space principle, ladder bookshelves lean against the wall, becoming progressively narrower toward the top, just like a ladder. Despite the minimalist shelf and rail construction, these bookshelves can hold a surprising number of items, and the sleek design helps your prized possessions really stand out. Showcase family pictures, your favorite decorative items, and, of course, books, with ever-popular leaning ladder bookshelves.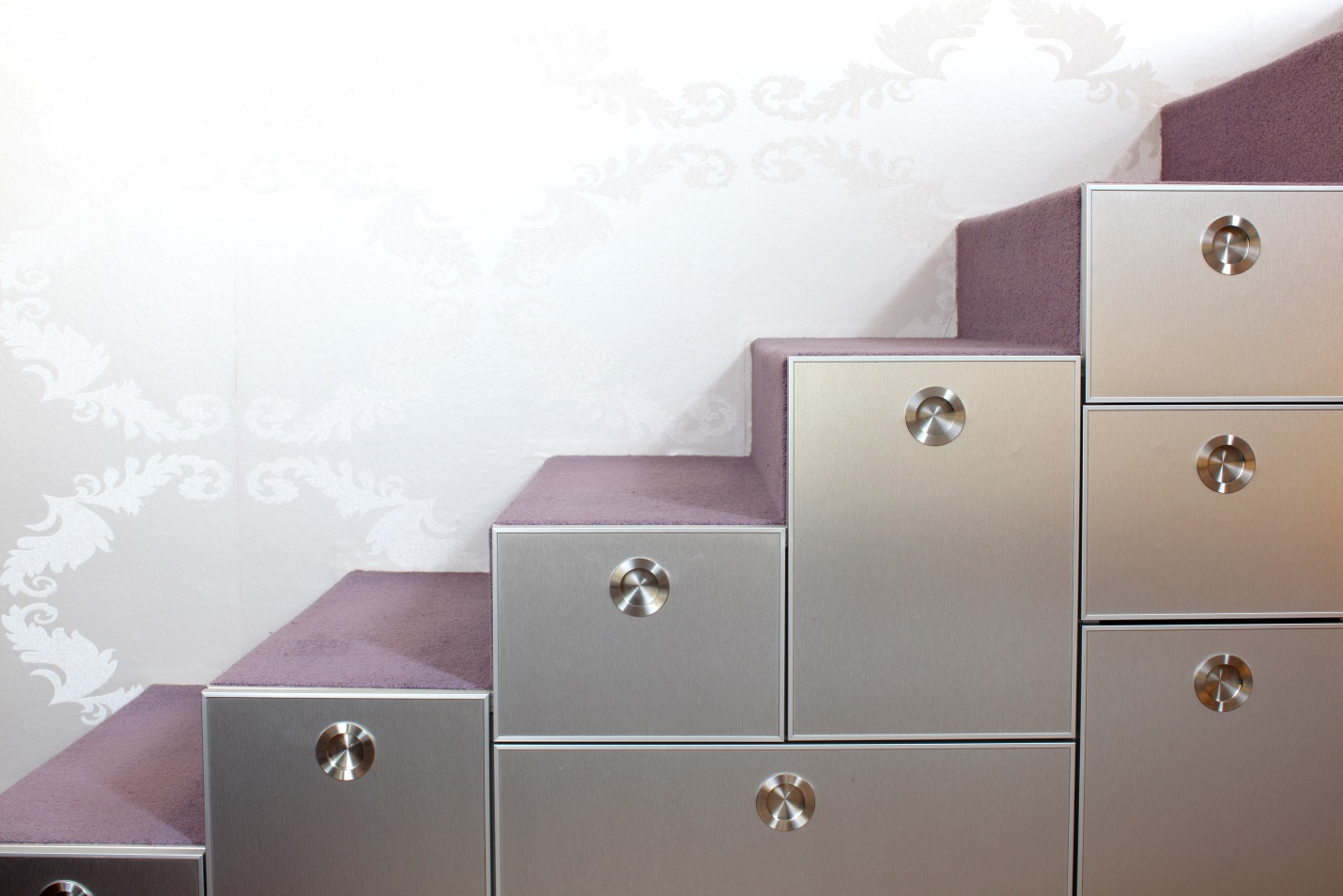 1: Stairs with Built-in Drawers
Closets and storage spaces underneath staircases are not uncommon in tiny homes using every bit of space. One disadvantage of closets is that they tend to accumulate clutter—from broken sports equipment to boxes of old clothes and paperwork you never may look at again. Additionally, under-staircase closets aren't always practical or feasible to build, depending on the design and size of the space. Well-designed shelving is a great alternative, providing additional storage space under compact staircases without creating obstructions.
Five More Space-Saving Ideas
Invest in a dining table that doubles as a game table.
Use decorative dividers to give the appearance of separate zones within a room
Keep plants on a wire-frame shelf to create a vertical garden and save counter/table space
Replace your knife block with a nested knife set that takes up a fraction of the space
Install a concealed baby changing station that folds up when not in use
The tiny house movement has inspired plenty of outside-the-box thinking when it comes to maximizing interior space. Whether you love simplicity of design or you're thinking about "going tiny" someday, we hope this collection of space-saving design ideas has been helpful.
Richards-Wilcox Door Hardware has been a leading manufacturer of specialty door hardware and door accessories for swing, slide-fold, and sliding doors for well over a century.