From Sliding Doors to Décor Camouflage: 3 Clever Ways to Disguise Your TV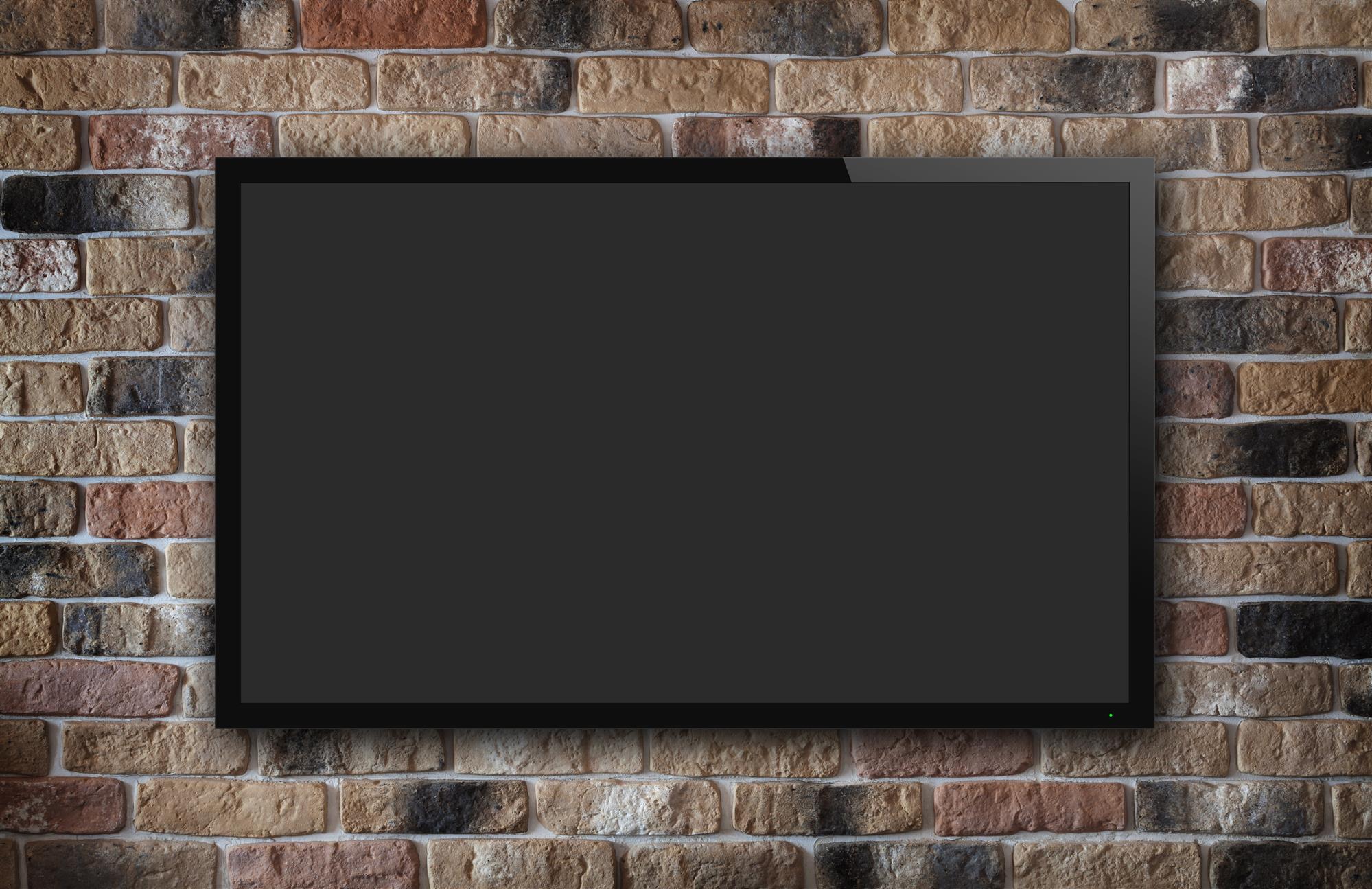 TVs are an essential feature of the modern home and every year they get thinner yet bigger. That can present problems for the more design-conscious among us. Although we've come a long way since the days when Americans watched their favorite shows on boxes that sprouted rabbit ears for antennas, modern flat screens can still be an eyesore to those who care about the look and feel of their living room.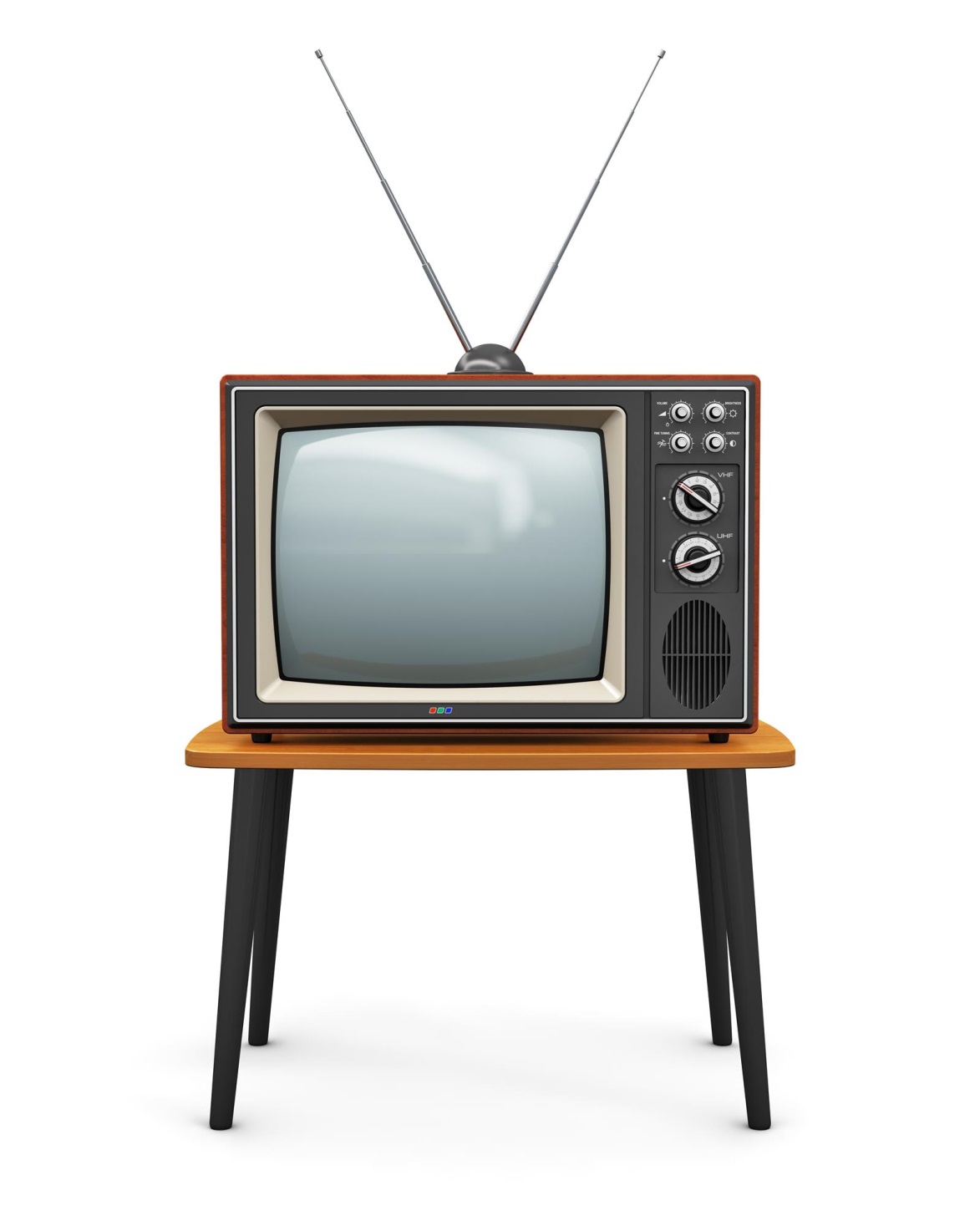 With each new model, TVs seem to take up more wall space, forcing homeowners to make tough decisions about their décor. Of course, a flat-panel TV can complement some ultra-modern spaces by its sleekness and slimness. Unfortunately, it often looks out of place in most other homes. Indeed, if you don't lean toward techy minimalism, or if you simply prefer to tuck the TV away when it's not in use, then you might consider investing in some solutions to hide or disguise the screen.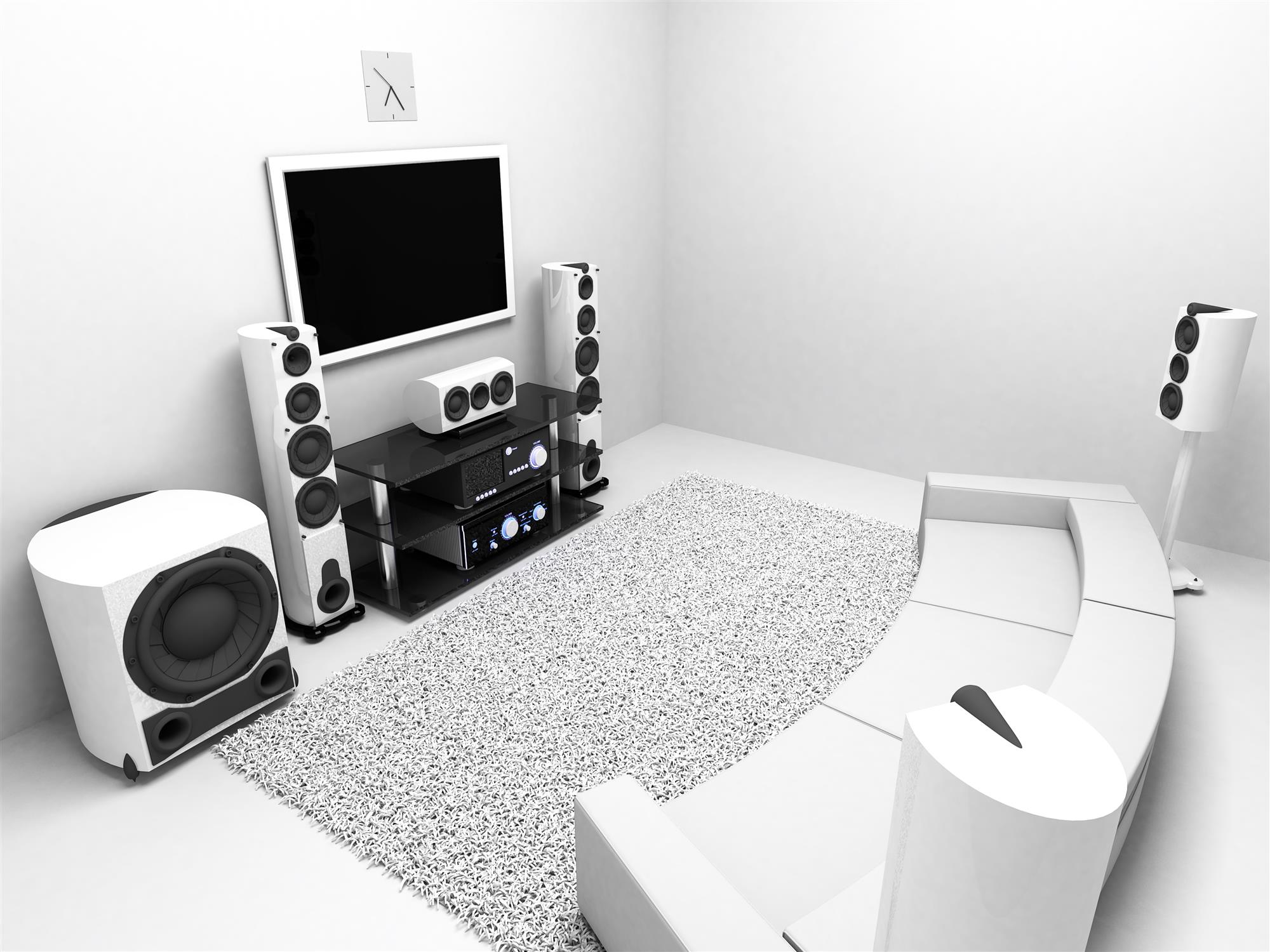 Since a large black hole in the middle of a chic wall is hardly the most elegant statement, interior decorators have been busy coming up with creative solutions. To help you make sense of it all, we've compiled a list of the three cleverest ways to hide your TV, starting with the most effective: a sliding door.
Idea #1 – A Sliding Door: Stylish, Durable, and Customized
Whether you live in a quaint cottage or a spacious manor, the trick is how to accommodate your TV without ruining the carefully planned interior design. Enter the sliding door.
What Is It? In recent years sliding doors have become popular replacements for the traditional swinging doors that guard nearly every room in the house, but they also make great concealers for unsightly appliances and gadgets. Whether you need to hide shelves full of electronic gadgets or a wall featuring a large-screen TV, an interior barn door is a sturdy and sophisticated solution. As long as you carefully match the doors with the surrounding décor, they'll look wonderful whether they're open or closed.
Why Choose It? Unlike other, more temporary fixes, sliding doors provide a sense of permanency and forethought. In other words, they won't give the impression that you haphazardly threw up a quick fix at the last minute. Another benefit is that sliding doors cover the TV completely, and they're relatively easy to open and close. Think of how often you use the TV or how frequently you rush to get the room guest-ready, and you'll realize how important an easy-open-and-close system can be.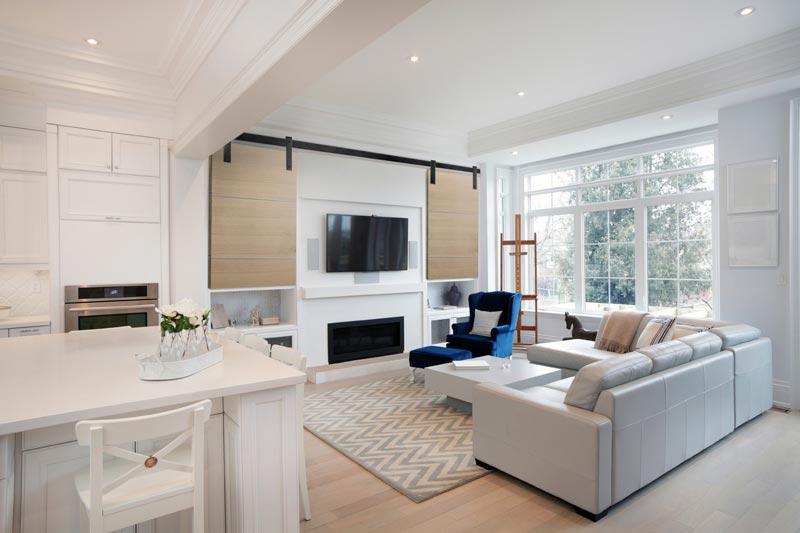 In the end, a barn door offers the perfect Goldilocks solution: Not as elaborate as a retracting wall or even a retracting sliding TV, it nevertheless provides more coverage than a decorative flourish, while also being more aesthetically pleasing. Finally, sliding doors require no advanced electronics, so the installation is relatively easy and there's less chance of malfunctioning.
How to Make It Happen? Most likely, you'll have to hire a contractor to install the doors but, once they're installed, you no longer need to worry about anything. When it comes to choosing a style, barn doors leave plenty of room for personalization. You can choose between an unfinished, rustic look, a sleek mid-century style, a frosted glass appearance, or nearly any other style that your heart desires and your décor permits.
Whether you go for small doors that cover only the TV or large doors that cover an entire wall depends on the layout of the room and your preference. Does your TV fit snugly above the mantelpiece? Go for smaller barn doors. Does your TV stand alone on a blank wall? There are always full-sized barn doors.
Tip: Whatever material you choose for the doors, make sure you get the right barn door hardware. The beauty of the doors will count for little if they're not supported by solid equipment that can withstand the wear and tear of the years. For the best in sliding door hardware, RW Door Hardware not only offers the most robust kits but also a range of colors and styles that make customizing your TV space easier and more enjoyable.
Idea #2 – A Picture Frame: Sophisticated, yet Understated
Another solution is to place the TV inside an empty picture frame. While it may not provide the level of concealment and protection as a sliding door, it does embellish an otherwise stark appliance.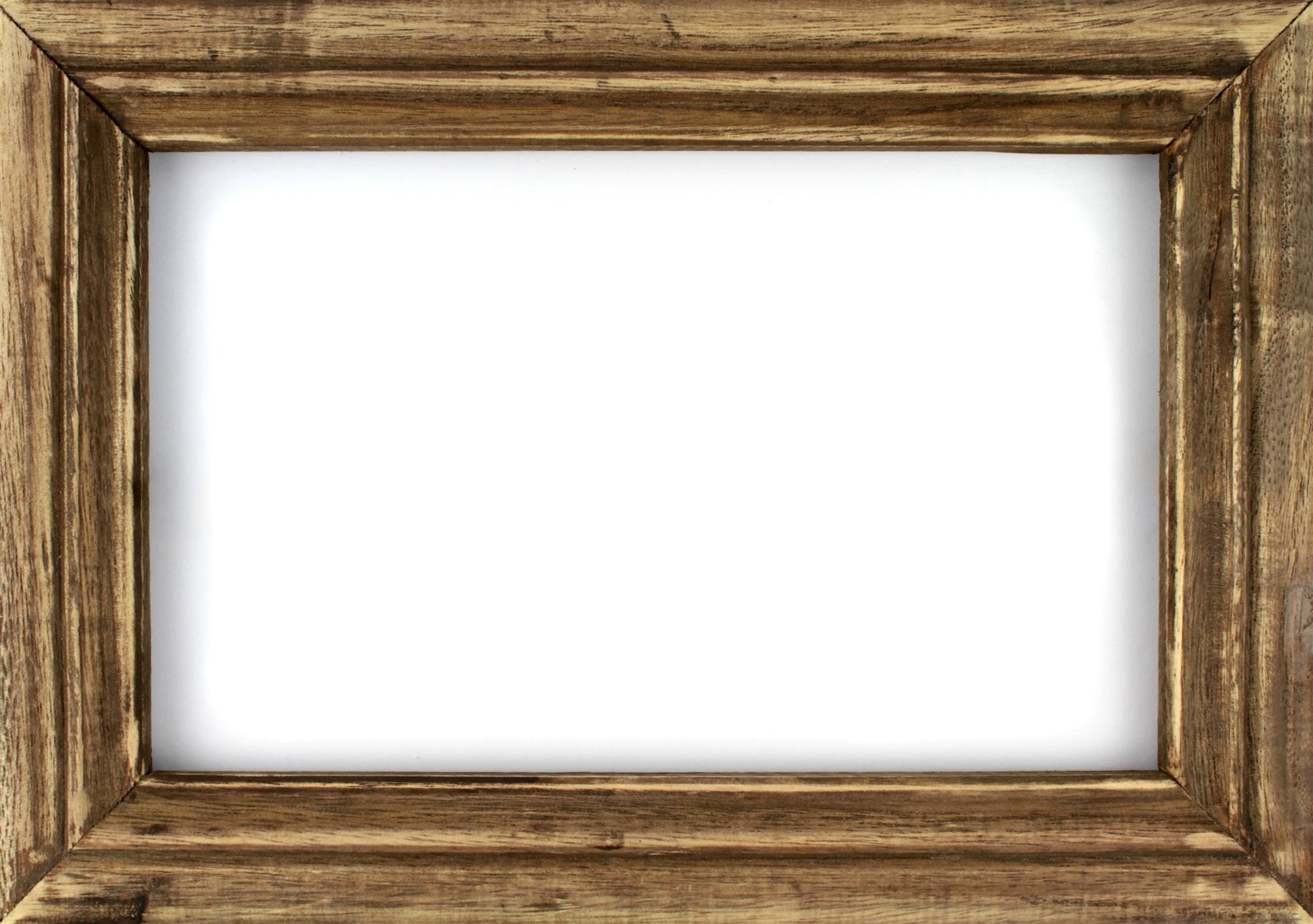 What Is It? A picture frame basically turns your humdrum TV into a work of art. True, you still have the problem of the blank screen, but there are solutions for that as well. When the TV is off and you're entertaining, you can always choose an appropriate picture or video as a screensaver—an option that's available with some modern televisions. You could also create an additional layer of disguise by placing a painting on top of the TV.
Why Choose It? If you want to disguise your TV without completely hiding it, then a frame is ideal. It adds a touch of refinement but doesn't try to whisk the TV away as if it had a bad case of the flu. On the other hand, it's not the most comprehensive solution. If you really believe that gaping black hole is an eyesore, then a frame may only draw attention to the defect.
How to Make It Happen? When using a picture frame to hide your TV, you have at least two options: find an existing frame that fits around your set or build a custom one. If you prefer to start from scratch, you have more options, at least in terms of materials—anything from exotic woods to old fencing. Whether you build it yourself or commission someone else to do it depends on your skill level and the amount of free time you have.
Tip: Going the custom route also allows you to create a frame that fits your set snugly. That can make a huge difference since a loosely fitted frame often looks like an afterthought. Of course, that means you'll probably need to build a brand new frame if you ever get a new TV unless it has the exact same dimensions as the last one.
Idea #3 – Camouflage: Simple Yet Effective
Some people prefer to camouflage their TVs rather than hide them. When it comes to camouflage disguises, the possibilities are endless, although creating a pleasant tableau may put your interior decorating skills to the test.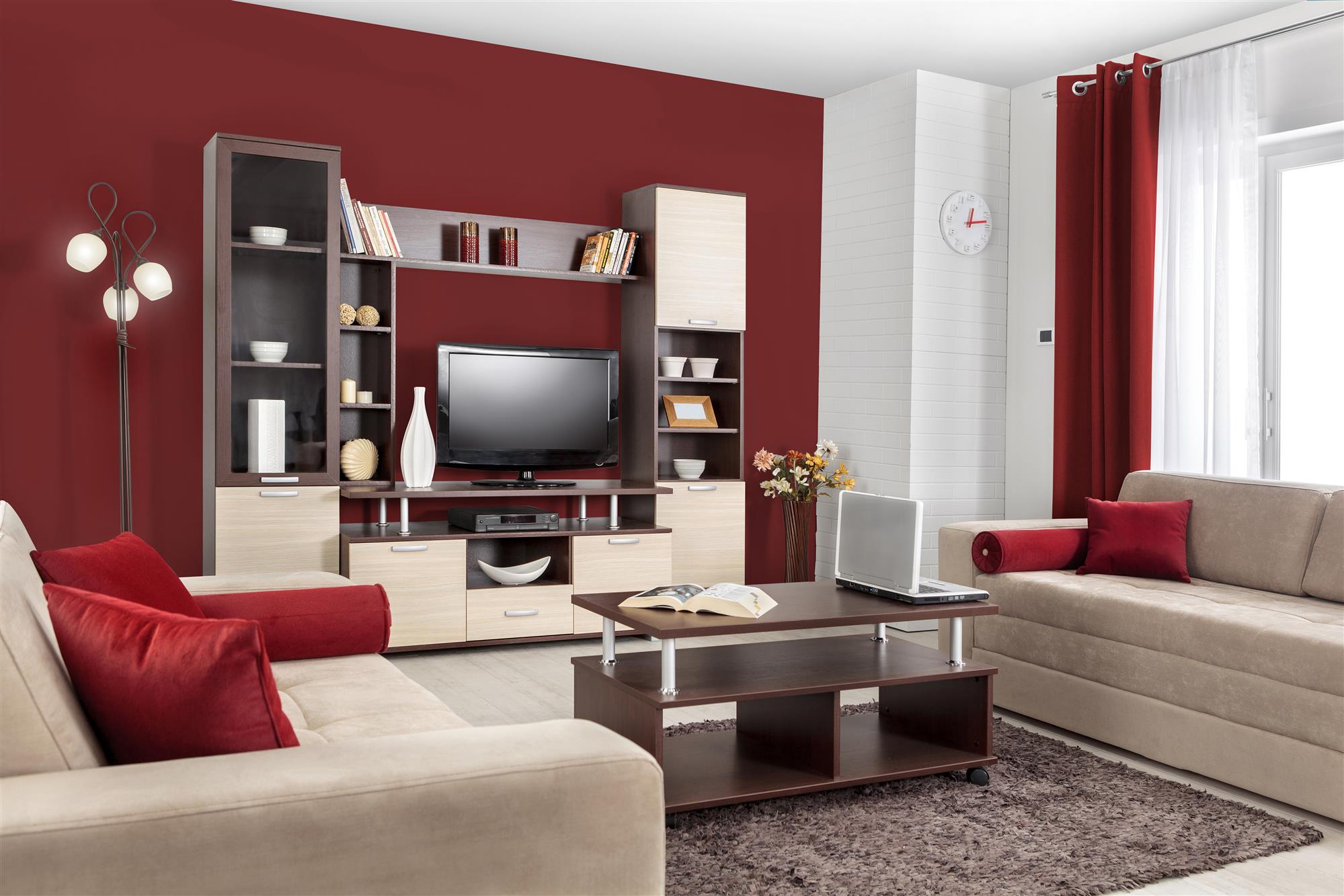 What Is It? Essentially, you're using the surrounding décor to draw attention away from the blank screen. Use your imagination. You can surround the TV with bookshelves, pieces of art, photo collages, maps, knick-knacks, flora and fauna, or any combination thereof. Of course, if you really want to take the camouflage metaphor seriously, you could paint the wall black to match the screen. It may be a more radical solution, but it's perfect for more daring people and more interesting spaces.
Why Choose It? If you're not yet ready to invest in a more permanent solution, the camouflage option is probably your best bet. It's also a good idea if you prefer a more subtle method of disguising your electronics or if you'd rather not hide the TV every time you turn it off or entertain guests. If your cocktail parties sometimes turn into football-watching parties or if you're the type of host who tends to disappear into the woodwork when your spouse is entertaining, you may need a distraction.
How to Make It Happen? Simply use your interior decorating know-how to design a charming arrangement. If that's easier said than done for you, then you can always hire a professional. Either way, it will take a little time, some hard thought, and a good sense of what you want.
Tip: Don't forget about all the other components, such as the DVD player, cable box, and game console. You can either stack books in front of them or lock them away in a dresser, entertainment center, or cabinet.